Christmas shopping...Oh yeah, the yearly christmas shopping.
Well, so my family went out shopping recently. Wow, it took us 5 hours to buy everything. I don't get it! How can you take 5 hours shopping? I mean, all you got to do is go to the store, pick out the stuff & buy it. That is just 3 simple steps.
Actually, we spend 3 hours shopping for presents & 2 hours shopping for personal needs. Personal needs means clothes, bags & shoes. Both my parents spent 2 hours shopping for their personal needs while I followed them.(wishing that I could go home)
I don't understand the concept of shopping. Going from store to store to buy one thing! I don't get it!! Well, why go from store to store & waste time when you can go to one store & just buy that dress/shoe/bag. I guess I will never be those kind of shopping girls.
Anyways, I think I pissed off one of those sales girls.
I think she look liked this when I dragged my mother out of the store. I mean, whenever my mum chose one of their product. She told my mum that it was out of stock. This repeated for 3 times. And on the 3rd time, I got pissed. I mean I rather be at home on my computer than be in this mall being bored to death!!
So I told the sales girl, "If you dun have any stuff to sell, you might as well shut the damn store. Mum, we gotta get out of here..." I dragged my mum out of the store.
If you don't know, I really hate shopping, dresses & the colour pink. So yea, I am not your average girl.
But it's kinda sad to see those young little girls dressed up like a popstar with weird outfits, high heel shoe & fake hair extension. Dude, what is their mum doing to them?? I mean, I am a grown teenage girl & I do NOT wear weird outfits, high heel shoe or fake hair extension!!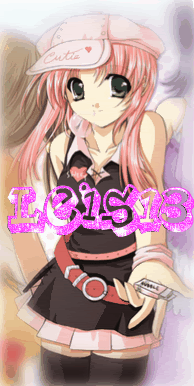 These is how some of them are dressed...well, not too bad you say?! They look like freaking dolls. Children are humans with brains! So to all parents, your child is not a damn doll to play dress up!!