So, I saw both my close friends playing the piano.
They looked so graceful & happy. And the music that was played was quite lovely. (It wasn't exactly perfect but it was good.) Since I grew up in a music loving family, music is something I naturally liked. Well, my father especially love classical music and he made sure my sister & I loved classical music. However, my mother likes rock & roll...songs that she can sing to. Therefore my family loves music alot, even so, not a single soul in my family plays a music instrument.
Most people would sent their children to piano classes but my parents didn't. They just felt that if we wanted to learn something, we would ask for it. So my parents never forced to do anything we hated...(excluding school, homework, chores & being polite)
Well, I never liked the piano. Some people will see the piano & gawk at it but even at a tender age, I didn't really care much for the piano. One of my cousins played the piano & one day, she wanted to teach me to play the piano. She tried to teach me but oddly, I just didn't understand. Therefore, I never really actually love the piano.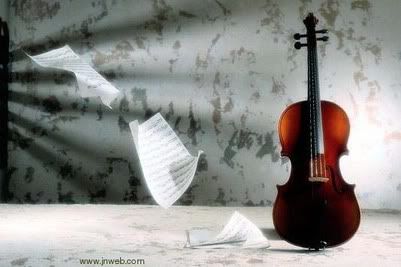 And one day, I saw my other cousin played the violin. She performed for my grandparents on their birhtday. The violin was so elegant, so beautiful & so soft. I never seen such a beautiful thing in my life. I've seen a piano, a cello, a flute & even a trumpet but I never thought of them as beautiful intruments. I guess...I fell in love with the violin. My cousin allowed me to touch her violin. As I stroked the violin, I could feel the soft wood just seem so magical.
And from that day, I took violin lessons. I really forced my parents to let me play the violin.
Unfortunately, I had to stop playing the violin due to money problems & tutor problems. And so I haven't touch the violin in 4 years...I forgotten everything I learned about the violin.
As I saw my friends play the piano so passionately, I was somehow reminded of my violin lessons.
How I wish...to play again...
But should I play?
Because I don't know where to look for a tutor & can my parents afford it?
Should I??
All those good memories of me, fooling around with my violin.
Here's a poll...HELP ME by answering it, please....*blinks*