...I thought that this year would be THE WORST year in my entire life. I never have been so stressed in my life before but, today changed everything.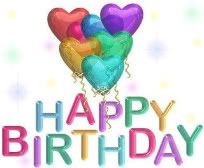 Yea, today is my birthday. Well, to me, birthdays aren't really a big thing so I don't really care. And to be honest, today is probably the best day of my life~~ Eventhough, my friends tricked me at first...
Well, my friends actually tricked me. Well, maybe I am a little to easy to trick. But anyways, one of my friend acted sick and she sent another friend up to get me. She made me worried & rushed down...only to find out that they organised a surprise party. Seriously, I was really shocked. I really never expected that.
Sincerely, this is the first birthday surprise party I got. (My last self organised birthday party was 4 years ago...) Nobody ever thrown a birthday party for me. And honestly, I am touched by their kindness. And guess what, I am truly happy today.
Although, I only known these friends for about a year but it feels like I know you forever and I'm glad we're friends...
PS to all my friends : you don't have to get me presents or throw me a party next time...remember itz the thought that counts.
These short moments of warmth will be remembered forever,
Thank you for sharing these special day with me,
I'll will forever have warm wishings for you.
~carmensakura07 April '09~