Ok, I'm finally part of BRATs! BRATs means :
B
right
R
oving
A
nnoying
T
een
S
BRATs Workshop is a workshop about journalism. We really were exposed to a journalist life. If you think a journalist life is easy, well, it ain't. There's crazy deadlines that means, you have to rush your work. We even get to interview an indie band. (I never knew a indie band meant tat it was an independent band).
Anyway, we went street poling. Yup, we went to streets to interview people about their interview. I'm in Video Group One AKA Team Banana.
Our group was pretty awesome. Everyone was just so cool and hyper. I miss everyone!!
Our videographer being very steady and focus. She's so good that it's as if, she was the tripod. Haha, the future VJ, Mark Chan. If I hear his name one more time, I'll puke. (While editing the video, we heard his name a thousand god damn times)
BWAHAHA, one of our interview victims. Poor dude, he got dragged in and was forced to be interviewed.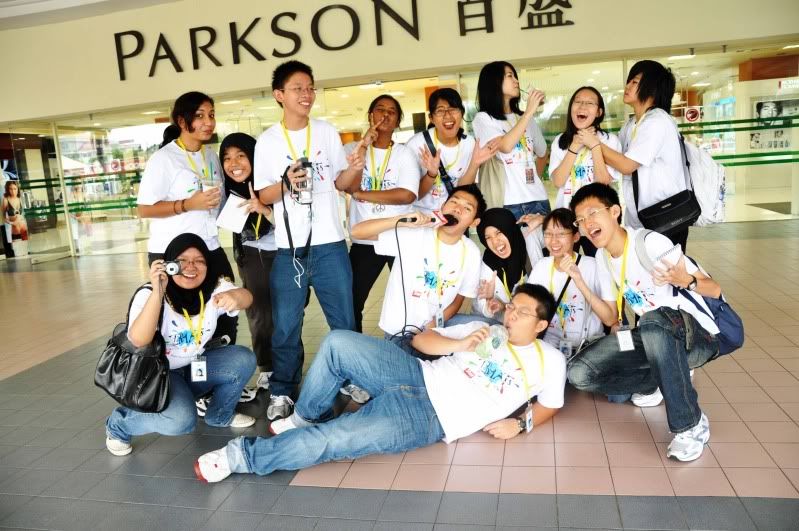 All of us posing after a hot & tiring day at work. Street poling isn't easy!!
Kuala Kangsar, Perak, Malaysia. It is a beautiful town with a country feel. It does not have the hecticness of the city. I like the old architecture of the buildings. Lovely place. I would love to come back here, one day. But I have a feeling that this town will be a ghost town soon because all the youngsters will move to the city and the old people will die off. It's sad to think that a peaceful & quiet town will die off soon.
We came here because we had to review the food in this town.
Damn it, thanx to this workshop, I am officially a photo addict. I love thinking photos now. Seriously...
And a I learnt alot about videos in this workshop. I love BRATs!! Now that BRATs is over, I wish it lasted longer. I don't wanna go back to skool!!!
Talking too much...well, I'm signing off now.
I might blog more bout BRATs!!