Arrogant
Dictionary says : full of pride
Pride
Dictionary says : an unruly high opinion of oneself ; dignity and self-respect ; haughtiness and arrogance

Rude
Dictionary says : crude and rough ; barbarous ; discourtenous

Someone told me these words. That was interesting. Because...nobody has ever told me this before. Well, people has always told me that I talked too much, my voice is too loud, wave my hands too much and maybe I talk too rough. Those are my bad points.
People also told me that I'm sociable, a good speaker and has confidence. Those are my good points.
But when someone told me that I'm rude, arrogant and overconfidence. It made me think. I've never thought of myself like this before.
So, the entire evening...I thought to myself...
Am I arrogant, overconfident and rude?
But then again, is pride something bad? Isn't pride the reason why some of us do things? Isn't pride something we all need?
And, sometimes I don't think I even have confidence. Sometimes, I'm just filled with self-doubt. But the only reason why I seem confident is because I fake it. Fake it till you make it.
But then again, there are some things that I'm really confident at. Even so, I'm not arrogant.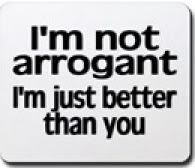 Anyway, my conclusion is that we all need pride. And pride may be the reason why I do things. Pride don't let us fail so easily. Pride make us efficient. Pride don't let us lose. Who wants to lose?
So we need pride, and if you say having pride is being arrogant, then, call me arrogant.
Truly where is the boundary between arrogance and humility? Too humble and you shall be a doormat. Too arrogant and you shall be full of hot air and crap. Therefore, where is the boundary?
We need pride...Don't lie to me. I know you too have pride.