I didn't know that I still love cars. When I was 11, I really love cars...well, sportcars. Yup, I'm a car lover. Maybe other girls like shopping, make up and shoes but I like cars, star wars and music. There was even a time when my room was decorated with sportcar posters everywhere.
My favourite sportcar used to be that red ferrari
(Damn, I forgot what model that was already.)
Anyway, yesterday, I was reading some automotor magazine when I saw the beautiful Toyota Prius!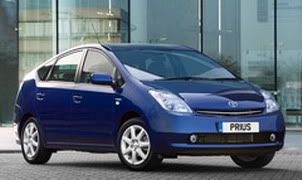 Yea, I know it looks like any ordinary car but this car is different. Did you know that this car is one of the most aerodynamic car EVER~? Oh yea...
This car can accelerate from 0kph-100kph in under 11 seconds. That's fast.
This car has lots of space and room. It has only 80 horse power, well, that's not much but hey, this
is
a family car.
This car has pretty nice features such as a FM/AM CD player with MP3/WMA support with
eight
speakers. Yes, it has 8 speakers! IT also has bluetooth-enabled handphone connectivity. Man, this car is bluetooth enabled. That's just
weird
BUT awesome!
Did I mention that this is a hybrid car? This car can also run on electrical battery. And, this car will not be on petrol engine until you're driving on a certain speed. This car also doesn't waste petrol!
THIS CAR IS THE CAR OF THE FUTURE!!!
Well, I would love to have this car. BUT my dream car currently is a Maserati Quattroporte Sport GT S with 440 horsepower. Oh yea, that car is damn fast...
PS : French Class Update~!
Currently, my french class is getting harder. *sigh* My french is not still not fluent...
I guess, I have to work hard.
Why must french mumble everything with a nose twank? *sigh*
English is still the best. English will prevail and english RULEZ~!