Recently, I rewatched another anime which is Death Note. Death Note is a pretty epic anime & I love it. Yea, I know I'm suppose to be studying but I guess this is my anime season. I've been watching anime after anime. But death note is the last in my anime list.
Well, death note is about a notebook that can kill people by just writing their name in that notebook. And so, this story begins with a boy named Light Yagami who picks up this death note and use it to cleanse the world by killing criminals. Then, L, a super detective tries to catch him and so a cat and mouse situation began.
I'm not recommending this anime to you BUT if you wanna watch it. I'm not gonna stop you. This anime is awesome because of it's mental mindgames. And you're always left wondering who will win the last battle.
Anyway, what amazed me is Light Yagami. The perfect son, intelligent student and an example of the elites. I'm so damn jealous of him.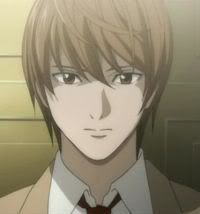 He's absolutely perfect! I mean, he's good looking, intelligent
(so intelligent that he is bored in school & class, btw, he's a top scorer!)
and he is good in sports. C'mon, tell me he isn't perfect.
(Excluding the fact that he's kira.)
I was so jealous of him for a moment. UNTIL, they actually showed him studying in his room for a whole night because he was preparing for his entrance exam.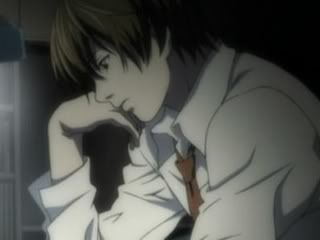 I was shocked at first. I mean, was he really studying?! I mean, seriously?? Then as I watch, I realize that he actually he liked studying.
HE LIKES STUDYING!! OMG!!

WHAT THE HELL IS WRONG WITH HIM? I mean, who in hell loves to study...
Then, I realize that if you want to achieve something, you gotta work for it. Nothing is free in this world. So...this show is kinda real in that fact. He actually studies and he wasn't one of those super smart but delinquet students.
Because of that, I was quite motivated to study. I want to be as good as Light. Wait, no. I wanna be better than him so I better work my ass off.