My theme for this year is Stupendous. I want this year to be stupendous~! Oh yea~~!!
So yea, this is my plan. My main goal is
1. Score straight A's in my SPM exam
2. Master my french
3. Maybe start an online business.
So this year, I'll just do my best & forget about the rest. But of course, I'll have some time to play & just enjoy myself.
Hehe...so this year will be stupendous.
And yea, I'll admit that I'm afraid but guess what, fear won't stop me. It'll just push me further like a nitro boost in a car race.
And at the end of the day, if I don't get what I want. It's alright because I've done my best and maybe next time, I will achieve my goals.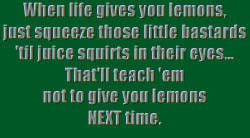 And Oh, I have a new catchphrase which is I'll bite you to death or kamikurossu in japanese. Hehe....(I stole it from an anime...) Haha, one down from my New Year resolutions and a few more to go~~!