Thomas Edison is smart man and most of all, a very strong man. He never gave up and I admire that. He could have given up after the 10th failure but he didn't because his curiousity kept him at it.
Amazing man. He is so good in reframing himself and changing his thoughts into better ones. And that is not something easy to do. His positive thinking definately helped him alot in discovering the lightbulb.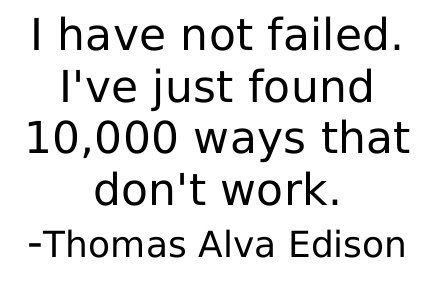 That quote is so awesome. I mean, it's so cool to think that way. When people say they have tried and failed one million times, he would say try one million and one. He always believes in trying just one more time. And due to that, I admire him.
So self-mastery before any other mastery. Your thoughts are what determined your actions and your actions creates your results. That's why I read self-help books to help & push myself. I wanna be the author in my life.
I so dislike people who says that self-help is crap or that they all the same. They're not. Different authors have different opinions and you can choose which opinion makes more sense.
Some people may say that self-help authors are just bragging and that they don't really want to help you. Well, some are like that but not all. Some want to share their secret to success so that you can be successful because they believe that everyone deserves to be successful.
If a guy wants to give me tips to succeed, then, I'm taking them...who knows, maybe it does works. And if you wanna go through the hard way of success, itz up to you. If there's a short cut in front of me, I'm taking the short cut.