I had an interesting week. Last weekends, I represented my school as a 3rd speaker for the national debate competition. Unfortunately, we lost...BADLY. Our stupid 1st speaker ruined EVERYTHING.
And it doesn't help when our school teachers knows absolutely nothing about debate.
So poor me and the 2nd speaker had to do all the research on our motion and about debate while our 1st speaker did nothing but shake her ugly leg.
And honestly, the 2nd speaker and I were VERY frustrated. We worked hard and she ruined everything. And the sad thing is...we were also so close to winning. We lost only by a few marks...and it was her fault because her speaking abilities wasn't good. Even the judge says so. *SIGH*
I was so close to an emotional breakdown...however, my 2nd speaker actually had an emotional breakdown and I don't blame her. It's hard to look at the trophy and know it's yours but it can't be yours due to a certain person.
Therefore, on Monday, the day of my inter-class debate, I really couldn't be bothered as I was still hurt and scarred by the pain of losing during the weekends. As the 3rd speaker for my class debater, I should care but I just didn't have the energy to care. Unfortunately, my class lost. Really, it was slightly bias because the opponent didn't even understand the motion and what debate is...they broke some major rules.
HOWEVER, even though my class lost, people felt that we should have won. People praise my class debater as we were dynamic and interesting to listen to unlike our boring opponents. I was straight to the point maybe even rude but people liked it that way.
And it really felt good to be praised. It totally raised my self-esteem. It made me realize that I should have career that has something to do with talking as I am a good speaker.
THEN, SOMEBODY...told me that I was too harsh, rude and blah blah blah.

PS : I was already being nice and gentle.
For the first time in my entire life, I actually seen a real pathetic loser.

I mean, honestly, I need to be harsh sometimes because it's what makes me dynamic and charismatic. So, It's not that I don't want to be gentle....but what you claim as harshness is simply something normal. So seriously, GROW UP!!

So my philosophy,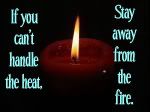 So currently, I DON'T TALK TO LOSERS! I'm doing you a favor. I'm keeping the fire away since you can't handle the heat. I can't baby you and give you kisses every night. BUT what I can do is keep the 'harshness' a.k.a fire away from you.
AND I DON'T CARE IF YOU HATE ME. After all, I'm a take it or leave it kind of person. SO choose. TAKE IT OR LEAVE IT!!