School is officially over for me. Can't believe that's real but it is.
So now, what do I do??
Well, there's so MANY things to do for me. This is a new chapter in life and I plan to start wonderfully and end it beautifully.
For now, to celebrate my new found freedom and my new chapter in life, I got a haircut. I like my hair. Only thing I hate is that the highlights are too soft and almost freaking invisible. Sigh. Next time, I want my highlights to be strong & shiny!!
Anyway, until the new year, I'm gonna procrastinate for a while. Then after that, TIME TO DO EVERYTHING ON MY LIST!!
And mind you, I have A LOT of things listed on my list.
A new beginning is always fun because you never know how it'll end. You never know it's going to go. The possibilities are endless. And right now, the world seem to be my stage. Everything seems to be set. All I got to do is move my ass!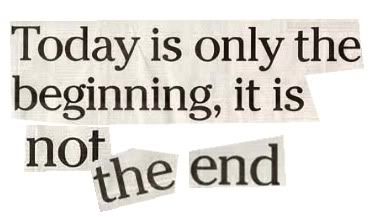 Maybe I am a little optimistic right now & full of hope. Maybe I will never achieve everything I dreamed of.
But atleast, I want to give it my best shot. Like they say,
"
if you want to fail, atleast, fail beautifully

"
but of course, I rather be successful. We'll see. We'll see how the future will unroll soon enough.
PS :