Since my final year exam is over, my stress level has really been reduced. I'm so much more relaxed now.
Anyhow, I feel bored. So currently, I'm having my reading mood on~! I would love to read so many books that I haven't read yet but always wanted to read.
So here's a list :
-The Girl With The Dragon Tattoo series by Stieg Larsson
-Hunger Games series by Suzanne Collins
-Leviathan series by Scott Westerfeld
-All of Madeline Wickham books.
-The remains of the day by Kazuo Ichiguro
If you have any good books, please recommend me. Yea, I know I am pathetic for not having read Hunger Games or Stieg Larsson. But that's because I have school and not enough time to read such awesome books. sigh.
I found out that my college library has Stieg Larsson's and Kazuo Ichiguro books, so I'm just gonna borrow them...but I think, I'll have to buy the rest. Sigh.....
But since, I have none of these books, I started rereading Uglies by Scott Westerfeld. I know I read it about a million times but I don't care. I love it!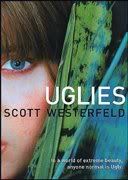 I like rereading books that have been reread a thousand times. The book feels like a good old friend and rereading it is like revisiting that good old friend. Plus, I can also remember all the past memories and feelings I had when I was rereading this book. So yea, it's always nice to reread a book that has been reread a million times~!
Anyhow, I also joined this NaNoWriMo thing online. It's a challenge - to write a novel (which has 50000 words) in a month (30 days). I only joined on Monday, so yea, I lost 7 days....but whatever. Btw,

NaNoWriMo

stands for

Na

tional

No

vel

Wri

ting

Mo

nth.
I decided to finish off the story that I have been writing which is "World's Apart". So yea. Finally, I might actually finish a novel......
Since my holiday start in two weeks, this is a great activity to do~!! hehe.
So yea, it's a literary festival to me. Reading and writing~!
Cheers to all you, writers and readers out there~~!!